Svante Malcom Carlsson
Blev 57 år.
| | |
| --- | --- |
| Född: | 1886-10-22 Småland, Sverige. [1] |
| Död: | 1944-03-06 Monticello Wright County, Minnesota USA. [1] |
---
---
Noteringar
Born in Smoland. Svante comes to the US in 1903, first living in Dawson, then St. Paul and finally Duluth, MN. He works as a bakery deliveryman, as a farmer and finally as a traveling sales person for the Rawleigh Co. In 1917, Svante Carlson marries Lydia Gerdin, who he met while living in Duluth. They marry in Maple Ridge, Isanti Co., MN. Svante and Lydia live for periods of time in Dawson, Maxwell, Redwood Falls, Elk River and finally Montecello, MN, where he lives the last 15 years of his life. Svante Carlson dies in 1944 at age 57.
---
Personhistoria
---
Källor
| | |
| --- | --- |
| [1] | Find A Grave Memorial# 64981462 |
| | |
| | |
| [2] | Find A Grave Memorial# 27738712 |
| | |
| | |
| [3] | Find A Grave Memorial# 27738716 |
| | |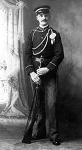 Svante Malcom Carlsson