Carl Oliver Carlson
Blev 89 år.
| | |
| --- | --- |
| Född: | 1920-12-23 Lac qui Parle County Minnesota, USA. |
| Död: | 2010-08-06 Saint Paul, Ramsey Minnesota USA. |
---
| | |
| --- | --- |
| Vigsel: | 1944-06-21 Hubbard, Hastings, Lake Jennie. [1] |
---
Noteringar
Rev. C. Oliver Carlson, 89, of Red Wing, died Friday, August 6, at Regions Hospital in St. Paul.
He was born on Dec. 23, 1920, to Svante and Lydia (Gerdin) Carlson. He graduated from Monticello High School and then from St. Paul Bible Institute. On June 21, 1944, he was married to Edith Goetz. For many years he served as a pastor at churches in Hubbard, Hastings, Lake Jennie and Stillwater, Minn., and at Arnolds Park and Newton, Iowa. From 1965 to 1988, he and Edith resided in Los Angeles where he worked for Utter McKinley Mortuary. In 1988, they moved to Red Wing.
He was a member of First Covenant Church and he enjoyed visiting, reading and traveling.
Survived by Edith, his wife of 66 years; four children, Paul (Brenda) Carlson of Red Wing, Lane (Cheryl) Carlson of Mt. Pleasant, S.C., Marcia (Bob) Rossman of Coon Rapids and DeAnn Carlson of Coon Rapids; seven grandchildren and six great-grandchildren; three sisters, Helen Peterson of Minneapolis, Betty Trouth of Burnsville and Gladys (Bob) Finn of California and one brother, Larry (Joan) Carlson of Duluth.
He was preceded in death by his parents and two infant brothers.
Funeral will be 1 p.m. Wednesday, Aug. 11, at First Covenant Church with Pastor Marvin Eppard officiating. Private family interment will be held. Visitation will be from 5-7 p.m. Tuesday at Mahn Family Funeral Home, Bodelson-Mahn Chapel and at the church for one hour prior to the service.

---
Personhistoria
| Årtal | Ålder | Händelse |
| --- | --- | --- |
| 1920 | | Födelse 1920-12-23 Lac qui Parle County Minnesota, USA |
| 1922 | 1 år | Makan Edith May Goetz föds 1922-05-26 Milwaukee Milwaukee County, Minnesota USA [1] |
| 1924 | 3 år | Brodern Robert Leroy Carlson föds 1924-08-25 Lac qui Parle County Minnesota, USA [2] |
| 1924 | 3 år | Brodern Robert Leroy Carlson dör 1924-10-28 Lac qui Parle County Minnesota, USA [2] |
| 1926 | 5 år | Brodern Lloyd Stanley Carlson föds 1926-06-20 Redwood Falls Redwood County, Minnesota USA [3] |
| 1926 | 5 år | Brodern Lloyd Stanley Carlson dör 1926-08-24 Redwood Falls Redwood County, Minnesota USA [3] |
| 1944 | 23 år | Fadern Svante Malcom Carlsson dör 1944-03-06 Monticello Wright County, Minnesota USA [4] |
| 1944 | 23 år | Vigsel Edith May Goetz 1944-06-21 Hubbard, Hastings, Lake Jennie [1] |
| 1945 | 24 år | Sonen Paul Lawrence Carlson föds 1945-06-02 Wadena Wadena County, Minnesota USA [5] |
| 1971 | 50 år | Modern Lydia Emilia Gerdin dör 1971-02-09 Minneapolis Hennepin County, Minnesota, USA |
| 2010 | 89 år | Död 2010-08-06 Saint Paul, Ramsey Minnesota USA |
---
Källor
| | |
| --- | --- |
| [1] | Find A Grave Memorial# 93013000 |
| | |
| | |
| [2] | Find A Grave Memorial# 27738712 |
| | |
| | |
| [3] | Find A Grave Memorial# 27738716 |
| | |
| | |
| [4] | Find A Grave Memorial# 64981462 |
| | |
| | |
| [5] | Find A Grave Memorial# 107338366 |
| | |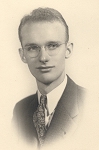 Carl Oliver Carlson